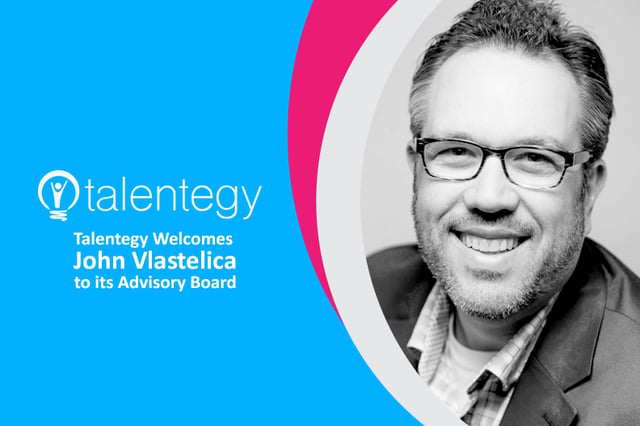 John Vlastelica is the Founder & Managing Director of Recruiting Toolbox. He spent the first half of his career as a corporate recruiting leader with companies like Amazon and Expedia, and the last dozen years leading a consulting and training firm, Recruiting Toolbox, which focuses on helping companies optimize their recruiting functions, raise the bar on talent, elevate recruiters to Talent Advisors and improve Hiring Manager capabilities. Clients include startups to big global brands like PepsiCo, Adidas, SAP, Booking, Nestle, Disney, IKEA, Sephora, and Starbucks. John's passion for talent acquisition is shared as an instructor for recruiting leadership labs, as an author of popular white papers and guides, a judge for recruiting excellence awards, and as a speaker at conferences around the globe. John is a part-time critic, part-time optimist, who has fallen in love with the problems we face in the talent space.
Talentegy will benefit from Vlastelica's extensive recruiting and HR leadership experience along with his practitioner-focused thinking to strengthen its product capabilities and go-to-market strategy.
John

p

roudly professes that he geeks out on all things talent so we are thrilled that he joins the Advisory Board for

Talentegy

so he can geek out along with us, said Shawna Berthold, Co-founder and EVP, Marketing & Operations.
Very few of us in the talent space really understand the behavioral patterns of our applicants and candidates. I'm really excited about the diagnostic tools and insights

Talentegy

provides, as it'll certainly lead to improvements in candidate experience and conversion, says Vlastelica.
It's tempting for us in the talent space to put a bunch of hoops in front of applicants and candidates – our apply process, for example, can have 30 clicks, pre-apply assessment tools, chat bots and more. But do we really understand the impact those extra steps have on our abandonment rates and conversion? Do we know where people get stuck, or give up? And if we do, how do we track and fix those issues? I'm excited about the way the

Talentegy

team is shining a light on this problem, and offering actionable insights to help busy leaders resolve the things that impact the top of our funnel," adds Vlastelica.
Having been in the shoes of our customers, John's understanding of the challenges that talent acquisition leaders face – and are struggling to solve – will be invaluable to how we communicate the

Talentegy

value proposition to them,

" says

Talentegy's

CEO Dwaine Maltais. John has great instincts on how to maximize recruiting operations and we are excited to have him join our team as we aggressively grow out our business.
John joins other Advisory Board members Scott Smith and William Tincup who were announced earlier this year.