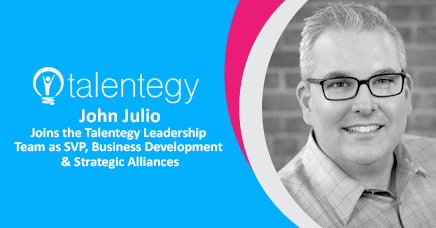 John Julio brings more than 25 years of HCM expertise in recruitment marketing, employer branding, agency relations and HR technology to Talentegy. He's been a trusted advisor to client partners spanning from start-ups to the Fortune 10. Prior to joining Talentegy, John was the Director of Customer Success at SmashFly Technologies where he managed and led the Customer Success Manager team.

J

ohn's commitment to client success and propensity for partnerships are an asset to the

Talentegy

team, said

Talentegy's

CEO, Dwaine Maltais. "He brings a wealth of experience from both the technology perspective as well as the candidate experience side of the business. He knows the importance of the customers' brand reputation and exactly how to position Talentegy as a valuable tool in that process. We are very excited to have him join our leadership team and guide our next phase of growth.
John began his career in recruitment advertising at Milestone Advertising helping to build the start-up agency into a full service creative shop. He then joined the Boston team of London based, Austin Knight (AK) known for its innovative strategies and creative excellence. AK relocated him to Denver to build and expand its presence prior to being acquired by TMP Worldwide where he was appointed to VP/GM of the combined agencies. After several years with TMP, he transferred to their Monster division where held various roles on the Skilled & Hourly, MonsterCAMPUS and Agency Relations teams. Relocating back to New England in 2008, John teamed up with Bernard Hodes Group as the VP of Digital Media where he met Talentegy founders; Dwaine, Shawna and Stephanie. In 2010, he boomeranged back to TMP in Boston as the VP of Client Strategy, where he solidified client partnerships and assisted in growing the office.
Candidate and employee experiences are vitally important and truly have an impact on a company's bottom line," said John Julio, SVP of Business Development & Strategic Alliances. "I'm thrilled to join

Talentegy

where our sole focus is on measuring and optimizing them for talent functions.

Talentegy

brings together simple to use technology with the people who really understand all talent touchpoints. It's great to be able to leverage my zest for keeping client partners happy along with a technology that focuses on making the most favorable impression with both candidates and employees alike.