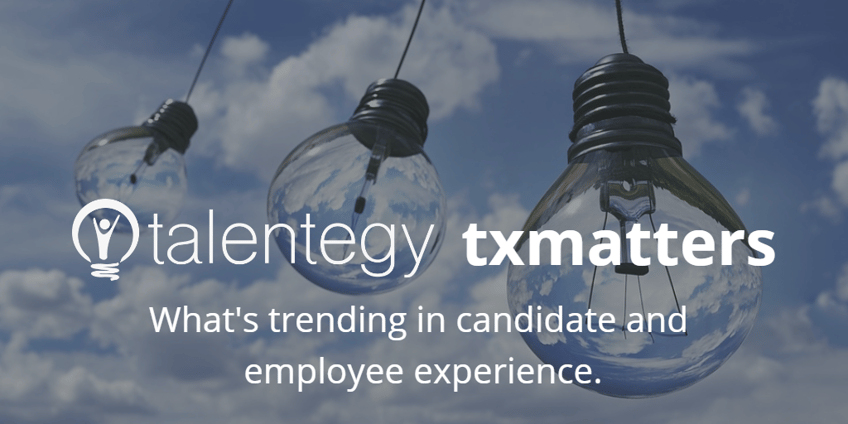 September 2017 Edition
A quick recap of what's trending in the Candidate and Employee Experience world.
The Top 4 Candidate Experience Trends for 2017
A quick read from the folks at Jobvite who express a positive candidate experience is as much a marketing tool as an HR one. It is—first and foremost—the only way to really hire the best of the best. It also creates brand loyalty, recommendations to future talented job seekers, and positive word-of-mouth about your brand. You can see read the full blog post here.
The Futurist: Creating a Positive Candidate Experience is Fundamental
The big shift in recruiting is the renewed focus on candidate experience. As much as a candidate tries to make the best impression in an interview – it is equally imperative to provide a recruitment experience to candidates that goes beyond just the job they are interviewing for. Read the full article here.
Rethinking Your Candidate Experience
Here are 9 questions you should consider when thinking about your Candidate Experience metrics. You can read more from Business Management Daily.
Do you have a quick apply process for every device?
Do you prepare hiring managers?
How effective is your career site?
Do you tailor communication methods to specific segments?
How long do background checks take?
Do you have the right ATS?
Do you inform candidates where they stand?
Do you stay connected once candidates accept the job?
Do you pay attention to how your employer brand is portrayed on social media?
Is Your Recruitment Process Over-Automated and Hurting Your Candidate Experience?
A new report by Randstad US offers some key insights in their latest study examining job seekers' perceptions, attitudes and expectations. No surprise, the ideal candidate experience leverages innovative technology, but puts human interaction first. Over 80 percent of survey respondents agree that they are often frustrated with "an overly automated job search experience."
Top Trends in Workplace Benefits
From a recent post from HR Technologist, it appears candidate experience ranks #1 in a list of the top 10 trends hitting in employee benefits – it's not just recruiting. They are seeing the focus shifting from mere productivity to truly leaving a positive impact on all the HR touch points, be it the candidate, the employee or the business stakeholders. They also have a great article of "How to Improve Candidate Experiences" based on several factors from CareerBuilder's 2017 Candidate Experience Survey.
Three Ways You're Turning Away Potential Job Candidates Before They Even Apply
Learn how a cumbersome application process, lackluster social media presence, and other things that are turning away your best potential hires. If it takes a long time to fill a vacancy in your company, maybe the talent shortage isn't to blame. Maybe your candidate experience is and stops people in their tracks before they even apply. Read the full article here.
How to Build a Great Candidate Experience (Part 1)
From the branding experts at TMP Worldwide, their latest blog post offers some good advice on evaluating your candidate journey from "Mystery Shopping" your application process to gathering data points around the candidate funnel, from the application to all the steps that come after, such as assessments, candidate reviews and interviews. You can read the full article here.
Shawna Berthold
Co-founder and EVP of Marketing & Operations