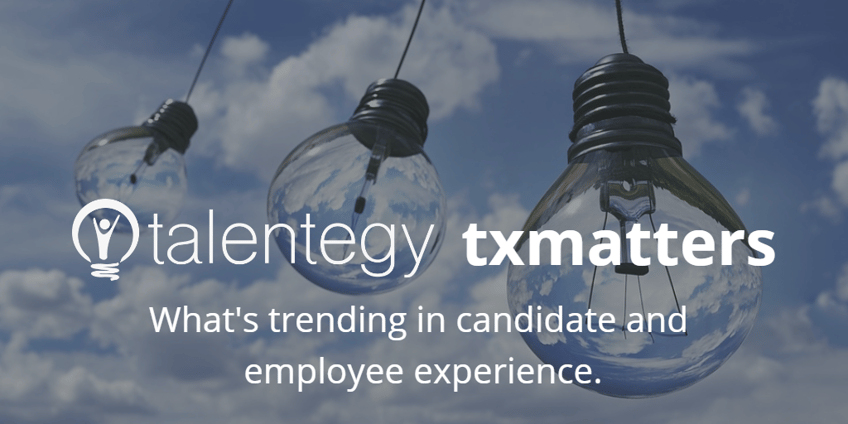 June 6th Edition
A bi-weekly account of what's trending in the Candidate and Employee Experience world.
If a Picture is Worth a Thousand Words, What's a Video Worth?
This video designed by Ph Creative, really hits home and is sure to make you laugh, but sadly it does showcase the reality of many candidate experiences today. Ph Creative is the digital marketing agency behind some great work with brands like Virgin Media, Broadbean, BAE Systems amongst others and offers a good candidate experience case study and overview on their mapping process here.
The Good, the Bad and the Ugly of Candidate Experience
John Hollon writes a great personal life experience article on Recruiting Daily surrounding his latest experiences as an applicant. Additionally, The Talent Board's Kevin Grossman adds these recommendations for companies trying to get better at candidate experience results.
Thank the candidates for their time – always
Follow up with recommendations on what can be improved or what is missing the mark
End with positive comments about the situation, no matter what
Not only give positive feedback but ask for it as well
Careerbuilder's Onboarding Best Practices to Improve the Candidate Experience
As many as 75% of candidates say that their candidate and onboarding experience with a company, is the first part of their broader employee experience with that company. Making it important to note, that candidate experience doesn't stop at the offer. Read the full article here or download the infographic.
How Google Jobs May Change Candidate Experience Forever
Read the latest post by Josh Bersin - Google for Jobs: Disrupting The Recruiting Market. His bottom line is that "83% of candidates still rate their job search experience as poor."
Candidate Experience on a Global Scale
No longer just North American focused, many companies and research reports are now designed with a global perspective in mind. The Cande's offer both EMEA and APAC specific research on top of their flagship North America version. Even agencies are developing their model around it including the team at CandidateExperienceMarketing (part of RPO firm Search & Co).
Top Talent is Always Looking
According to Indeed.com's Talent Attraction research, 92% of top performers say they search for job opportunities at least a few times a year and 77% look at new jobs monthly with nearly half visiting a company's career website. Even more reason why candidate experience is critical when they land on your site…and converting them easily. Oddly enough, 70% of talent acquisition leaders feel active candidates are more motivated to succeed. Maybe passive candidates are a thing of the past.
Shawna Berthold
Co-founder and EVP of Marketing & Operations